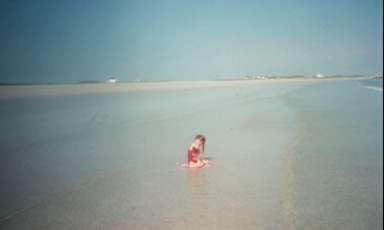 Gott Elaine.M.Williams 1999©

Gott &nbsp a Norse name derived from Godhr, a person.

The Rock of Mallachdaig (Cursed One) is situated at the Scarinish end of the beach. This is reputed to be the rock which St Columba tied his coracle to upon his arrival on Tiree, the anchor was bedded into a clump of seaweed growing on the rock. When he returned, the tide had come in and the coracle was adrift, not being a happy man, he put a curse on the rock and ordained that nothing should grow on it, forever, and so it has been ever since.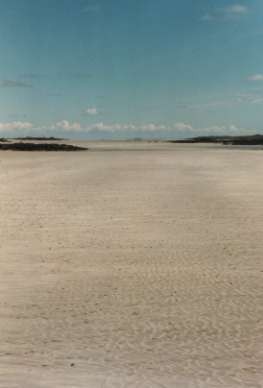 Gott Bay Elaine.M.Williams 1999©
Kirkapol &nbspNorse derivation, meaning church town.

Now containing just the Church of Scotland Parish Church and the ruins of the Chapels. The Free Church is now a guest House.

The Ancient Chapels were not standing during the Norse invasion, but were there before they left. The Vikings left Tiree Christian. The Irish chronicles show that Columba first founded a monastery on Tiree in 565 and it was he who developed the Island as the Granary Isle for Iona, hence the name, land of the barley. One of Columbas relatives, St Oran has given his name to Clach Odrain, the nearby graveyard and was associated with the holy site at Kirkapol.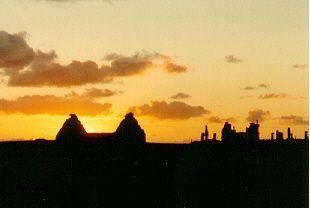 The Ancient Chapels at sunset S.E.Alexander 1998©
Two of the three burial grounds still used on the Island are here and are separated only by a few yards.

At the present time, moves are being made to make the Chapels safe so they continue to stand for the benefit of future generations as their religious importance has bearing for the whole west coast of Scotland.

The other notable building in Kirkapol has the ruined chapels as a dynamic backdrop. The Lodge, now a hotel, was formerly the home of Lady Victoria Campbell and afterwards of her sister Lady Francis Balfour, daughters to George, eighth Duke of Argyll.



The Tiree Lodge Hotel seen from the beach Elaine.M.Williams 1999©


The Archaeology of the island is varied and extensive, too much to mention in a short whistlestop tour of the Island. Further details are available in :

Argyll, An Inventory of Monuments, Volume three. Mull, Tiree, Coll & Northern Argyll. Published by The Royal Commission on the Ancient and Historical Monuments of Scotland. 1980