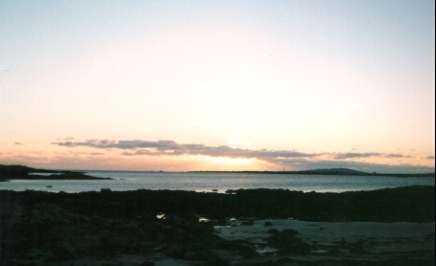 Dawn over Tiree Elaine.M.Williams 1999©
" The boat leaves Oban every day,
Passing Tobermory on the way,
Onwards to the lovely Isle of Coll,
To Tiree, the most beautiful of all............... "

One of the many songs written about the small atoll of shell blown white sand which is the Isle of Tiree in the Inner Hebrides. At first glance, a crofting community almost suspended in a time warp, but in reality, a close, vibrant, developing one; full of life and more involved in the Twentieth Century than many towns on the mainland.
The population, dotted over the Island in small communities called townships, depend on the CalMac ferries for all supplies from the mainland, a link which is a life line and sorely missed when the high winds of the winter months make docking at the pier in Scarinish a near impossibility. Sailing up the Sound of Mull at a sedate pace, is a wonderful start to any holiday, the peace and tranquillity of the Inner Hebrides heightened by the sound of the boat cutting smoothly though the clear, clean sea. Dolphin and porpoise entertaining those on deck taking the invigorating air.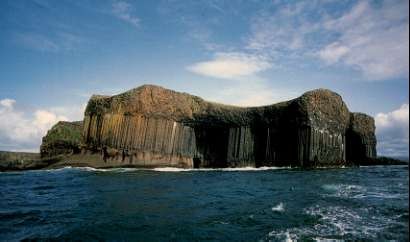 Fingals Cave Elaine.M.Williams 1999©
The daily flight by Logan Air from Glasgow brings post, visitors and the all important newspapers on it's 18 seater Twin Otter 'plane. Flying to the Island gives views unparalleled in Scotland, over Corrievreken and Fingals Cave to the flat line on the horizon with it's 3 hills, which is Tir An Eorna, the Land Below the Waves or the Land of the Barley. Forty five minutes takes you away from the hustle and bustle of Glasgow to a small airstrip surrounded by machair land grazed by sheep and cattle, inhabited by numerous species of birds and the home of rare moths, and orchids.

Accommodation on the Island is as varied as the character of the townships and as diversified as the wind direction, a sheltered beach can always be found even on the windiest of days. The Tiree Lodge Hotel, nestling on the shores of Gott Bay and originally the hunting lodge for the Duke of Argyll, provides comfortable, friendly surroundings and excellent local food. Self catering accommodation is also provided by the hotel in a converted Coach House at the rear and the garden flat. What could be more convenient than a restaurant just two minutes walk from your accommodation when the rigours of a day on the beach have become too much?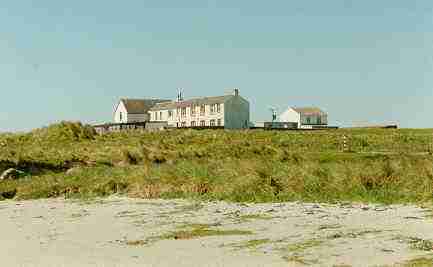 The back of the Tiree Lodge Hotel seen from the beach S.E.Alexander 1998©


Take a virtual tour of the townships of Tiree